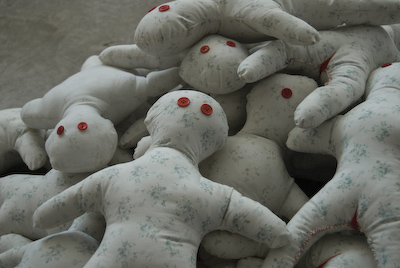 Cupid's Nasty Arrows (Detail)
Full size set of used bedsheets, buttons, embroidery thread, fiberfill
Installed: 24"h x 26"w x 12"d
Each component est. 16 1/2" h x 11 1/2"w x 3"d.
*Detail image shown
Cupid's Nasty Arrows
This piece is about taking lovers. While viewers often comment upon it as reflecting a lone male with a pile of used females, the work is not actually gender specific. The figures are one in the same, as they are all, literally, cut from the same cloth. The cloth being my own used bedsheets, worn to the point to fraying. The lone figure is keeping the faith, keeping hope, with love (hearts) for eyes. The work is displayed right on the floor, as polite society "looks down" upon taking lovers. The work will become a dirtier affair as time passes, collecting the detritus left by others, from the floors on which it is displayed. Without realizing it, the viewer has contributed to making the piece considerably less "clean" than the freshly laundered bedsheets it was made from. Viewers also fail to differentiate between the figures in the pile and the lone figure. I will find that they have tossed the lone figure, with hearts for eyes, into the larger pile of blankly staring figures. Ah...some are careless with hearts indeed...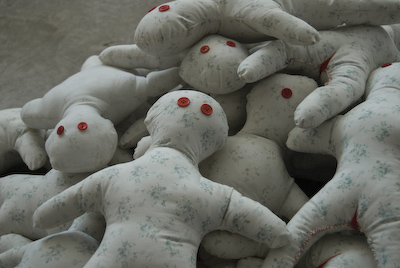 Cupid's Nasty Arrows (detail)
Cupid's Nasty Arrows (detail)
Cupid's Nasty Arrows (detail)